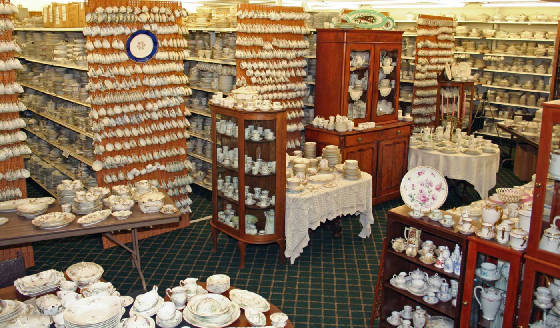 With our large inventory and knowledgeable staff, we are ready to

* Offer you additional pieces to add to your Haviland china collection or to replace broken or missing pieces.

* Offer you complete sets in both the Antique Haviland and the Current Haviland.

* Treat you fairly, courteously and promptly.
* Packing and Shipping services available for your breakables.
* Open by appointment only!!!
We Specialize in ALL Haviland Companies
Haviland & Co. (H & Co.) - Limoges

Theodore Haviland - Limoges & New York

Charles Field Haviland (CHF) - Limoges

Johann Haviland - Bavaria, Germany, & Traditions (Thailand)
Pattern Idenfitification Service
Don't know which pattern you have? Feel free to browse our many albums of photos and attempt to identify it yourself.
If you are unsure of your exact pattern name or number and would like some assistance, we would love to help you find it. There is a $10 charge for pattern identification which will be refunded with your 1st purchase in that pattern.
Simply click on the link below and purchase our pattern identification services. E-mail us a picture. And we will get to work identifying your pattern.
If you have questions, please give us a call today.
Scott's Haviland China
1911 Leland Ave.
Des Moines, IA 50315
515-285-2739